All I have left to do in our 2009 book is to pick out a photo to put in the middle of the cover. Other than that, it is finally complete! I'm so glad I made the switch to
American Crafts D-Ring albums
or there is no way I would have been able to fit in as many pages as I did. As it is, that album is full to to the brink.
Christmas 2009
- I based this two page layout off a sketch from
Sketches for Scrapbooking
. I can't remember if it was in Volume 4 or 5, but I just have to make a plug for these books. 2 page layouts are always a challenge, but these books make it so easy!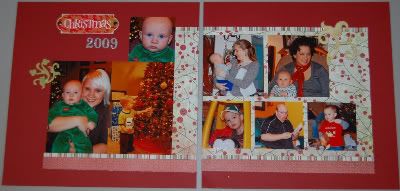 Family is a Gift
- A very simple layout that allows the patterned paper to be the star of the show, this layout features
Thickers
by American Crafts (which I am
obsessed
with) and the
Blue Awning collection
by K and Company . It didn't photograph incredibly well, but you get the idea.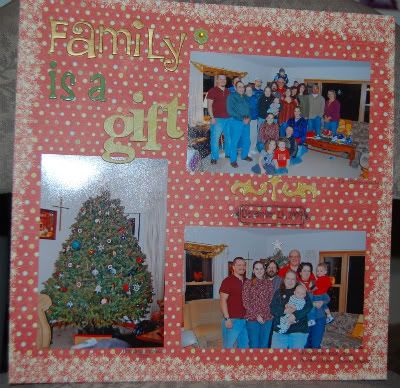 There was one more too, but I forgot to photograph it! Whoops. Stay tuned for the results of my 3 hour scrapboooking session from Sunday night!