I could have finished a couple more layouts for Micah if I hadn't been such a dork and left my freshly developed photos at work, but I did manage to complete four in the 3 1/2 hours or so I had to be in my scraproom Sunday night. I guess that means I am
this close
to being officially caught up in Micah's book! Woohoo!!
Silly Boy
- This layout is opposite the
Love That Smile
layout that I did in a very similar style. Even though the designs are very similar, I love how the simplicity of the layouts lets the photos take center stage. Plus, I've been dying to use that patterned paper for months now. Does anyone else hang on to paper that long to find just the right photos? Letters are Thickers by American Crafts (surprise, surprise). I scraplifted this design from
Jessica Turner's
class at Big Picture Scrapbooking:
"Don't Blink!"
Thanks Jessica!
My Joy
- Micah's first Christmas! This was my first time attempting to use my
circle cutter by EK Success
. I managed to get a circle, but I did slice the tip of my finger in the process! I took a short break to clean up the blood and slap on a Band-Aid and I was back at it! Glitter letters are Thickers, ribbon is by Pebbles, polka dot paper is by American Crafts.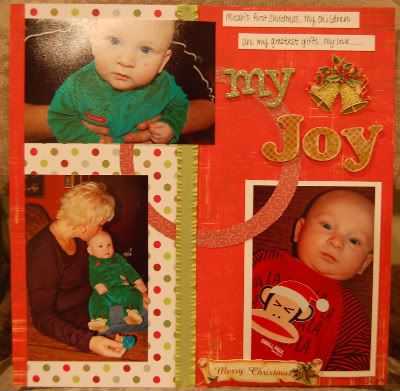 Just like Papa
- Remember a while back when I fell asleep dreaming about how I was going to scrap a
photo of Micah with his Grandpa
? Here it is. I picked up the green from Micah's sleeper in the pattered paper for the background and then used shades of red and gold for the accents. I love the way it turned out! (I scraplifted
this design from Janna Wilson
. Thanks Janna!)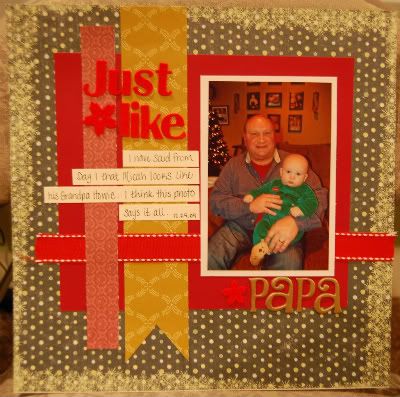 4 Months
- This was the month we first realized just how big Micah really was - off the charts for weight! I couldn't wait to scrap the fun photos I had of him from this month, including his first solid foods. Pattered paper is by Martha Stewart Crafts, ribbon is by American Crafts, and letters are (you guessed it!) Thickers.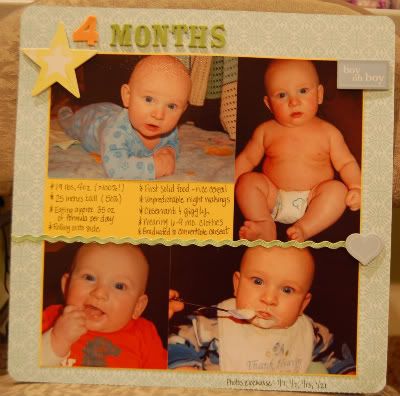 Now to get started on the 2010 scrapbook.....