Didn't have to substitute teach today, so the boys and I are just hanging out at home. I thought it might be fun to show a little peek into what my living room looks like on such a day.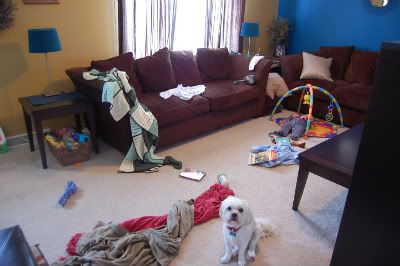 This is actually on the more orderly side, considering Isaiah had not yet dumped his whole toy basket out on the floor. Still, there is an overturned sippy cup, several books, a bunch of blankets, and even a pot from the kitchen. I think there's even a baby in there somewhere. It's kind of like looking at a "Where's Waldo?" book, isn't it?
I did consider using this photo for my Project Life album, but I took one a little later that I just loved, but you'll have to wait until Tuesday to see that one!