Where did January go and run off to? Is it seriously the second week of February already? I jumped head first into this Project Life thing and last week I was able to start taking a photo every single day. So far, so good! I'm still figuring out how I want my actual album to look so things are changing as I go along. I also need to print out the actual photos, but I'm trying to wait until Snapfish has another deal going. I guess it's kind of a "learn as you go" type of process.
Sunday, January 31st - Check out the jowls on my Micah! What a little chunker!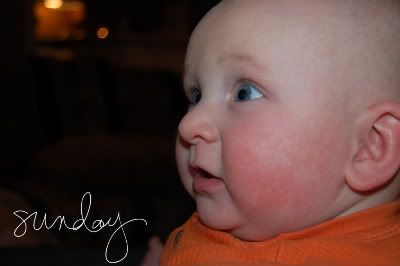 Monday, February 1st - Isaiah loves to mess around in the shoe pile and he finds it particularly hilarious to try to walk around in Mommy or Daddy's shoes. This time, he attempted to walk in Daddy's steel-toed shoes and it didn't work so well. He fell on his butt about 20 seconds after this photo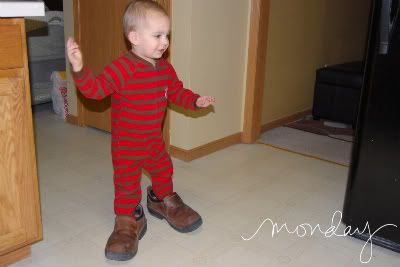 Tuesday, February 2nd - For the very first time, Isaiah is starting to show an interest in actually reading books. Prior to this, he would page through them and get distracted rather quickly. All of a sudden, he is now excited to read two books before bed with Mommy and will even go in and "read" on his own!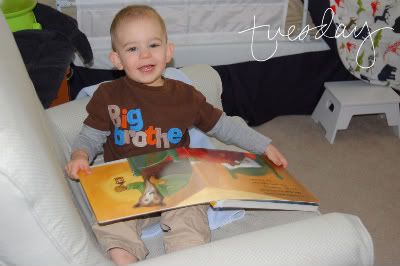 Wednesday, February 3rd - My parents were coming over for a visit so I wanted to mop quickly before they got there, but I found out too late I was out of Swiffer juice. So, I let Isaiah push the mop around to "help."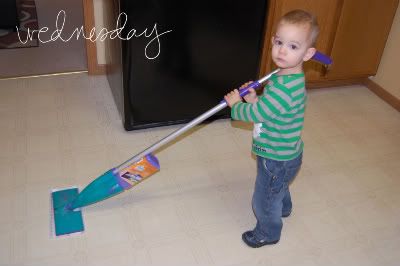 Thursday, February 4th - A sippy cup,
Cars
, and Sheriff Woody. Welcome to my life!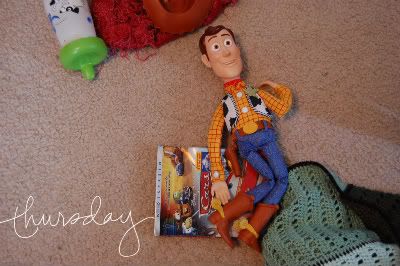 Friday, February 5th - Micah refused to nap all day long, but finally passed out on the couch - about 5 minutes before we had to leave. He looked so sweet for those five minutes though.