I finally got sick of just using Bisquick to make pancakes in the morning because they always came out kind of dry and I realized I was missing a great opportunity to sneak some yummy healthy stuff into Isaiah's breakfast. Once again,
Missy Chase Lapine
came through for me. I found her recipe for
Golden Pancakes on Familyfun.com
. I won't copy the recipe for you here, but click on the link to check it out. I'm such a fan of the
Orange Puree
. It works so well in so many things.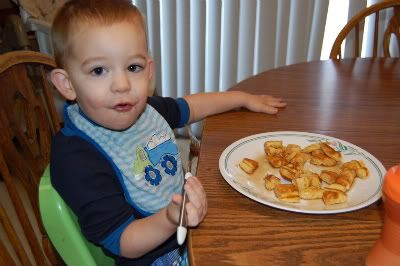 THE VERDICT
: These pancakes were delicious! I was a dope and didn't buy quite enough buttermilk, so I had to add a little 2% milk while mixing the batter so it wasn't too thick. The finished pancakes actually don't look as orange as you might think they would, considering the very orange batter. They were moist, but not wet. The sweetness of the sweet potato combined with the sugar free syrup made for a delicious healthy breakfast. These just might become a breakfast staple in our house!