This just in....Micah likes to eat. Shocking, I know. Not only is he sucking down more than 30 ounces of formula every day, but he is now eating "real" food like you wouldn't believe! So far, we have tried sweet potatoes, butternut squash, carrots, and a sweet potato/broccoli mixture. See for yourself, but I think Micah enjoys it!
I do make the majority of Micah's baby food myself. The single ingredient stuff is super-easy and with a good recipe book, you can make some pretty wonderful "meals" for your baby. I would really recommend it to anyone. It's cheaper than buying it premade and you know there won't be any preservatives or anything in it that you don't want there. Plus, you can really experiement with fun combinations of flavors to encourage your baby to eat a variety of things.
The basic supplies for baby food making are a good food processor (mine is by
Cuisinart
), ice cube trays for freezing your purees, and Ziploc bags to store your cubes in. I made my own food for Isaiah too and I highly recommend these two books:
Top 100 Baby Purees by Annabel Karmel
and
Blender Baby Food by Nicole Young
. I make notes in the margins when I try a recipe about how easy it was to make and how it went over with my
guinea pigs
kids. I would really like to get these
Stay-Fresh Baby Food Containers
so I could store and freeze larger, travel-sizes of my baby food.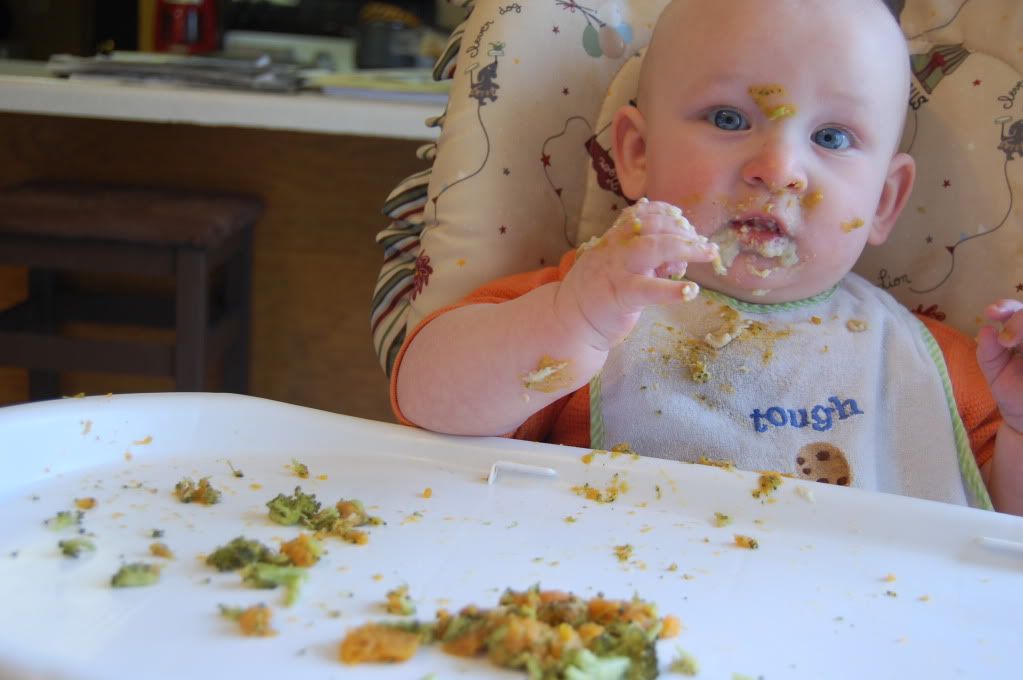 Making baby food at home is actually pretty fun and I'd say the results on Micah's face speak for themselves! What about you? Do you make your own baby food? Would you like to, but thought it would be too much work? How about and tips and tricks to share with this mommy? I'd love to hear your baby food making (or eating) stories!
One more question - Would you like me to make my adventures in making my own baby food a regular post topic? I'm happy to share my recipes & photos if you would find it helpful. Let me know!