Gerber has a can of Spaghetti with Meat Sauce in their 3rd Foods line that Isaiah really liked. I remember he would eat it up in no time flat. Yup, once it came time to add in chunks of meat, pasta, and things of that nature, I got a little lazy when it came to homemade baby food. I'm going to try really hard to avoid reverting back to that with Micah.
When I made spaghetti for dinner the other night, I figured I would give it a try with Micah too! When it comes to baby food, it always helps to try to work in whatever you're already eating so you don't feel like a short-order cook all the time. Here's how I turned our dinner into some age-appropriate grub for Micah.
Spaghetti with Meat Sauce
Brown hamburger (or ground turkey would be even better!) in a pan, drain off fat
Stir in pasta sauce (I'm lazy and use jarred stuff) and however many cubes of sneaky ingredients you can get away with (I used three cubes of frozen sweet potatoes and two cubes of broccoli from my baby food stash)
Put a scoop or so of your meat sauce into the food processor. Add some additional pasta sauce and a cube or two of sweet potatoes.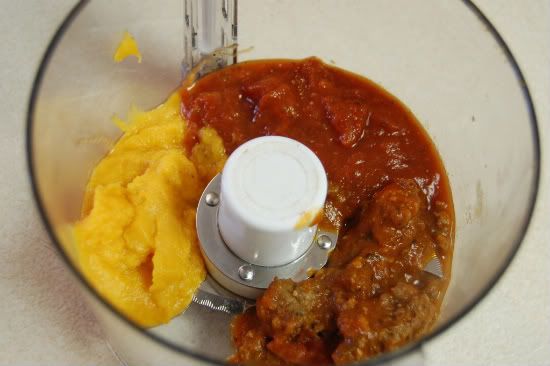 Blend the sauce together. Add more pasta sauce if you need to thin it some. Here's how mine looked: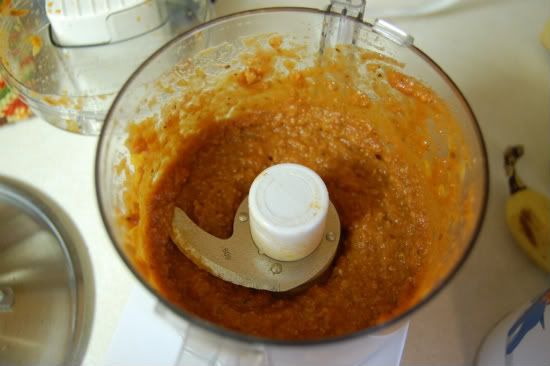 When your spaghetti is cooked well (whole wheat, please and thank you) add a small handful to your food processor and blend again! You can add more pasta sauce again if needed. Here's how the finished product came out for me:
Of course, be careful if you end up with a stray whole noodle in there like I did. Either avoid it or cut it up smaller before feeding it to baby. I was a bit aprehensive to see how Micah would handle meat for the first time, but then I remembered that my baby is a professional eater.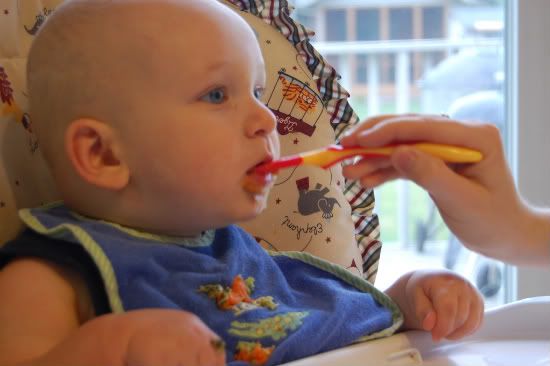 No problem. Take that, Gerber!