Oh sweet mother of pearl, it's here. Tonight is opening night. I've been so insanely busy this week with tech rehearsal, dress rehearsals, organizing parent volunteers, and changing sound cues that I have had zero time to tackle any of the items on my "To Do While Evan is in China and the Kids are at Grandma's House" list. I've been so exhausted by the time I finally get home from teaching, play practice, or work that I barely have the energy left to make myself dinner before I crash.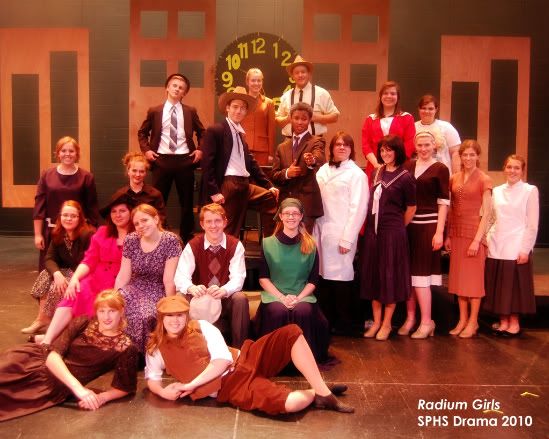 Tonight we open. All the hard work is going to pay off starting this evening when our first audience gets to see what an incredible show this is. My cast is exceptional and they get to tell the true story of the Radium Girls with a unique voice. I'm honored to have been part of this show. This is the 5th show I have co-directed in the Sauk Prairie school district and it is far and away my favorite so far because it is
just that good
.
If you're going to be near the Sauk Prairie area this weekend, come see
Radium Girls
. All performanced are at the River Arts Center. It's playing tonight and tomorrow night at 7:00 pm and then a 2:00 pm show on Sunday. Tickets are $5 at the door. You won't regret it!
There will be cookies at intermission. I'm not above bribing you with baked goods.