**Sorry, all. Something goofed up in Blogger and this posted before I meant it to. I don't actually have a time machine to make it Saturday while it's still Friday. That would be cool, though.
After the disasterous interview Wednesday morning, I came home to try to gather myself a bit. I also went through my coupons, poured over the ads and circulars from the Sunday paper, and scoured my coupon blogs for the hot deals and last minute coupons to print. When I was finally prepared, I loaded up my coupon envelopes, grabbed my shopping list, and headed out the door.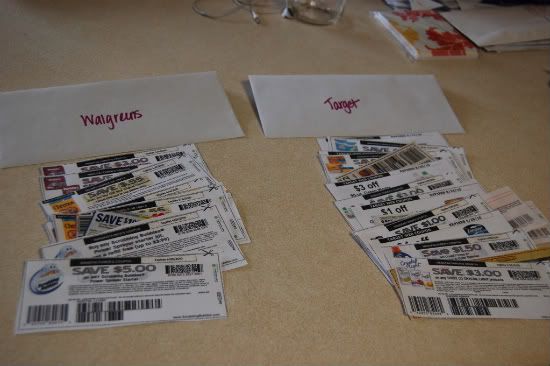 First stop: Walgreens
Armed with some killer diaper coupons and a couple BOGO deals, I was looking forward to this visit.
Here's what I purchased at Walgreens.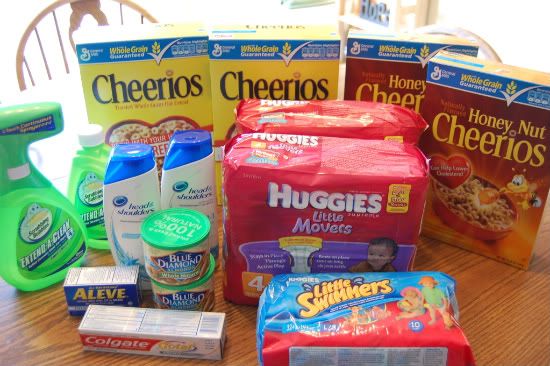 2 Boxes of Cheerios, 2 Boxes of Honey Nut Cheerios - On sale for $1.99 each
2 Head & Shoulders 2-in-1 shampoo/conditioner - On sale for $3.99 each
2 packs of Huggies Little Movers diapers - On sale 2 for $18 plus earn a $2 Register Reward
1 pack of Huggies Little Swimmers swim diapers - On sale for $6.99
1 Scrubbing Bubbles Extend-a-Clean Starter Bottle - On sale for $7.99 plus earn a $2 Register Reward
1 Scrubbing Bubbles Extend-a-Clean refill - $5.49
2 Blue Diamon Almonds - $3.29, BOGO free
1 Colgate Total Toothpaste - $2.99 plus earn a $2 Register Reward
1 50 ct. Aleve - $7.29
Using the stack of coupons pictured above, I was able to save a total of
$55.51
and I earned
$7.00
in Register Rewards
!!
Some of my coupon highlights are listed below:
Huggies Little Swimmers - Used a $2 Walgreens coupon from the May booklet plus a $1.50 manufacturer coupon to score these for $3.49!
Scrubbing Bubbles Extend-a-Clean - Used a $5 coupon from the Scrubbing Bubbles website to get this item for $2.99 plus I earned a $2.00 Register Reward. I also had a coupon to earn the refill for free (up to $3.99) with the purchase of the starter kit, so I also got the refill for a total of $1.50!
Huggies Diapers - In addition to the sale price of $9.00 per pack, I used two coupons for $3.00 off Huggies. This purchase also earned me a $2 Register Reward! I paid only $12 for two packs of Huggies, plus have $2 in RR to spend on my next visit.
Cheerios - $1.99 is already a good price for this cereal, but add on my $.55 coupon for each box and it becomes a great price!
Colgate Toothpaste - The price of $2.99 came down to $2.24 after my $.75 coupon and the $2 Register Reward I earned on this one got me a tube of toothpast for less than 25 cents!
Aleve - I used a Walgreens coupon for $3 plus a manufacturer coupon for $1 to bring the price of this 50 ct. bottle down to $3.29. Not too shabby!
Second Stop: Target
Oh, Target. I do love you so. I didn't have time to snap a photo of my haul, but the number printed on the bottom of my receipt said
I saved $46.83!!
I'll admit it. I felt a little better when I was able to show off my reciepts to Evan.