I love my little
Xyron adhesive thingy majigger
. I adore it and my life was made significantly better when this X-shaped device entered my world. I no longer have to monkey around with slopping glue on the back of teeny little letters or embellishments. Ribbon can instantly be turned into a sticker, buttons can be adhered with ease, and the list goes on and on. The only thing that could improve this relationship is if I had the bigger one - the 250 - but that's a post for another day (June 16th sounds like a good day for that post, I think).
However, for the first time since our love affair began, my darling Xyron betrayed me. I had just finished cutting out two sets of letters on my Cricut (speaking of love affairs) and had used my X-shaped assistant to create a gorgeous title for my layout. Dreams of covering the letters in Stickles to make them glitter were dancing in my head. I put my "I" through the X with glorious results, a perfect sticker. Next went the "S." This is where things went tragically wrong. To my horror, my beloved Xyron had somehow malfunctioned and tore a bit of the patterned paper off my letter! Imagine my terror when this happened over and over so that four of my letters were damaged! Not one to waste paper and start over, I just went with it and slapped those darn things on my layout and went upstairs in a huff.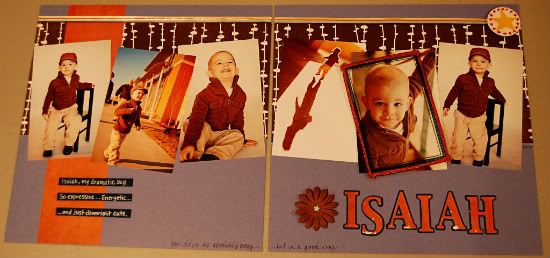 I returned to this layout the next day and looked on it with a fresh set of eyes. (And by that I mean it was good to put some time in between looking at the layout, not that I literally exchanged eyeballs. That would be gross.) I went ahead and put a layer of Stickles on the title and, although you can't really see it in the photo, I like how it turned out. The damage from the traumatizing adhesive process almost looks like an attempt at distressing and I've come to terms with it. My Xyron and I are back on speaking terms, thank goodness.
Have you ever had an equipment malfunction while scrapbooking? What did you do? Throw the P.O.S. in the trash or just roll with the punches?