Welcome once again to Project Life Tuesday! I am taking a photo every day in 2010 and putting them together in an album to create a unique keepsake of this year for our family. Be sure to check in on what others are doing with their project over at
The Mom Creative
!
Sunday, August 29th - I sat and just stared at Micah stacking blocks for a solid five minutes. I was in awe.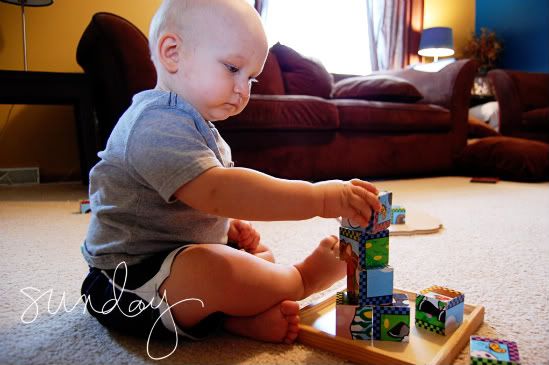 Monday, August 30th - On Sunday, Isaiah got a burn on his hand by momentarily reaching into the oven to "help" Daddy take some bread out. Evan acted quickly, but not quite fast enough to prevent Isaiah from getting a small burn on his hand. Today, it had blistered up and he was pretty proud to show off how he learned his lesson - "No touch oven. HOT!"
Tuesday, August 31st - Isaiah was just in the mood to cry all day long today!
Wednesday, September 1st - Micah has learned what is expected of him when I get the camera out. Good little monkey!
Friday, September 3rd - It almost looks like Micah's trying to sit like a Warriorette. (This will be funny to exactly two people who read this blog. The rest of you can just appreciate how cute he is.)
Saturday, September 4th - Isaiah got sick overnight and was up into the wee hours vomiting and continued to be ill into the afternoon. We stayed home instead of going to the
Wisconsin State Cow Chip Throw
, so I brought him home this cow balloon to try to cheer him up. He wouldn't let it out of his sight the rest of the day.
Thanks for stopping by and have a great week!