Welcome once again to Project Life Tuesday! I am taking a photo every day in 2010 and putting them together in an album to create a unique keepsake of this year for our family. Be sure to check in on what others are doing with their project over at
The Mom Creative
!
Sunday, November 7th - Believe it or not, I have never made Rice Krispie Treats before. Sure, I may have helped my mother make them back when I lived at home, but tonight I suddenly got the urge to whip some up with the help of my assistant.
Monday, November 8th - Yes, Isaiah is wearing the same shirt as yesterday. I can't begin to tell you how much he loves his Aaron Rodgers jersey. He insisted on wearing it again today!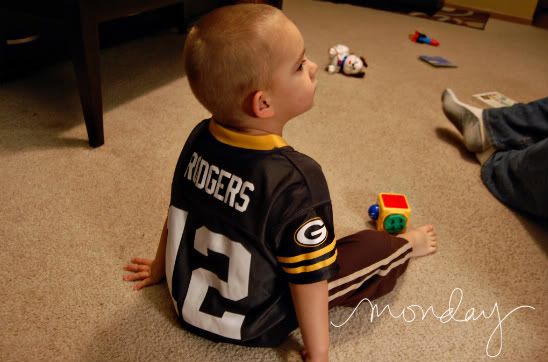 Tuesday, November 9th - It's Isaiah's 3rd birthday! We had a little mini-celebration tonight with chocolate cake, candles, and a copy of
How To Train Your Dragon
. Hard to believe it's been three whole years since I became a mama!
Wednesday, November 10th - Micah's new favorite game is to stuff as many shoes as he possibly can inside the washing machine. Sure, it keeps him busy for a few minutes, but I've had to make a habit of checking for small shoes left behind before I do a load of laundry!
Thursday, November 11th - The boys "helped" me scrub my kitchen floors today. My patience gave out before my knees and wrists did, but we didn't get the job as finished as I would like. Both kids needed their clothes changed after this little activity!
Friday, November 12th - A new friend invited us over for a playdate and my kids were two among probably fifteen children running around! They had a blast playing with their buddies and then our hostess was kind enough to include Isaiah among the November birthdays when we had birthday cake!
(Photo withheld since there are LOTS of children in it who are not mine!)
Saturday, November 13th - We worked together on prepping a few dishes for Isaiah's birthday party tomorrow. While Daddy chopped veggies for the deli platter, Isaiah worked on cleaning up the leftover stems. I have no idea what that means, but he's certainly concentrating on his task!
Hope your week is blessed!