Welcome once again to Project Life Tuesday! I am taking a photo every day in 2010 and putting them together in an album to create a unique keepsake of this year for our family. Be sure to check in on what others are doing with their project over at
The Mom Creative
!
Sunday, November 14th - Isaiah's birthday party was on the same day as his Grandpa Howie's birthday. As it turns out, they both like chocolate cake.
Monday, November 15th - Isaiah got a Leapster Explorer for his birthday and he immediately wanted to play it as soon as we set foot in the door this afternoon. He looks like such a big kid!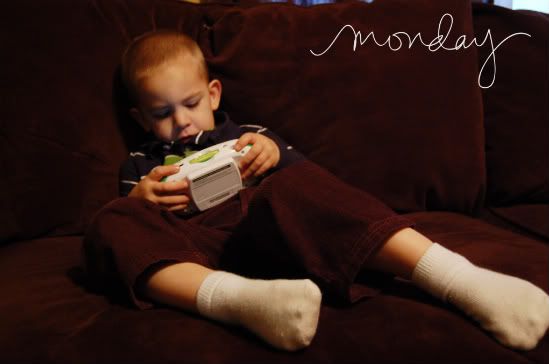 Tuesday, November 16th - It's going to sound strange, but Isaiah is terrified of balloons flying away. This is his small collection of balloons he has "rescued" that are tied up and kept safe in his room. To read more about Isaiah's globophobia
click here
.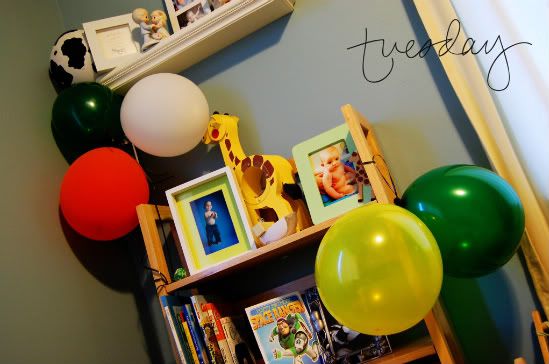 Wednesday, November 17th - I realize a photo of Micah eating isn't really anything new around these parts, but I got excited because he was eating this tuna sandwich like such a big boy, with only quartered pieces rather than little hunks!
Thursday, November 18th - Today I picked up the ingredients to make the brine for our turkey, to be cooked by my resident master chef (Evan) on Saturday at Fat Man's Thanksgiving!
Friday, November 19th - The batteries are almost dead, but this little fridge toy has been bringing Micah tons of delight lately. It just makes him giggle and squeal!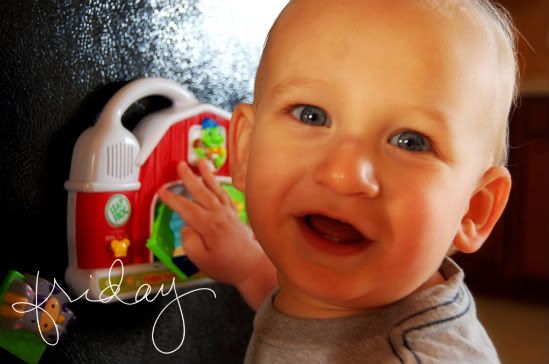 Saturday, November 20th - There once was a time when we got together with our friends for Fat Man's Thanksgiving and it was just us adults. I swear I only blinked my eyes and now there are four wonderful kids we get to enjoy it with. (And one more Baby Schneider on the way!)
Travel safely this holiday and may your Thanksgiving be blessed!