Welcome once again to Project Life Tuesday! I am taking a photo every day in 2010 and putting them together in an album to create a unique keepsake of this year for our family. Be sure to check in on what others are doing with their project over at
The Mom Creative
!
Sunday, October 24th - Isaiah periodically loses these cars for weeks on end, but when they finally get unearthed he becomes inseperable from them. They even go to bed with him!
Monday, October 25th - We took advantage of what might end up being one of the last nicer days of the season to go on "an adventure" by taking a little hike down by the river near our house. Both boys enjoyed getting some fresh air and getting a little dirty.
Tuesday, October 26th - Isaiah dismembered this poor Rex toy long ago, but the head still makes for good fun when he makes it growl, "Raaarrrrr!!"
Wednesday, October 27th - He loves his brother's Sheriff Woody toy. I love his face.
Thursday, October 28th - Can you understand why I can't seem to get a good photo or video of Micah walking? He gets so fixated on pursuing the camera that he either drops to his knees or I get photos of the inside of his hand!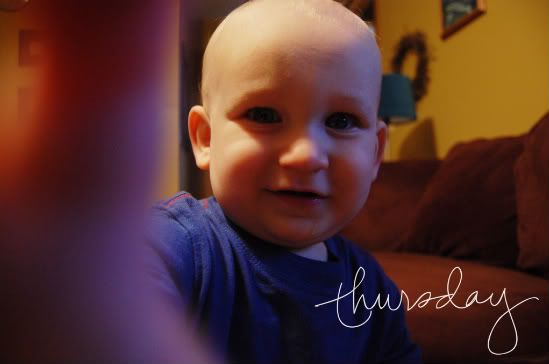 Friday, October 29th - We went to a Halloween party down the street this morning where my little Spiderman and Buzz Lightyear made a lot of new friends and ate a lot of sugary snacks. It was awesome.
Saturday, October 30th - (Evan's photo) Allow me to introduce you to my kids, Batman and Spiderbaby.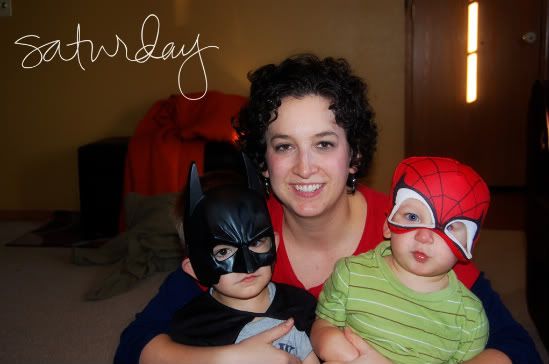 Have a wonderful week and thanks for stopping by!