Hello and welcome to Project Life Tuesday! I am taking a photo every day in 2011 and putting them together in an album to create a unique keepsake of this year for our family. Be sure to check in on what others are doing with their projects over at
The Mom Creative
!
Sunday, February 27th - Tonight was supposed to be a date night for Evan and me, but instead I felt terrible so I spent my night on the couch with my two equally sick kids.
Monday, February 28th - This photo really represents the last week and a half or so of our lives. I'm so ready for it to be over! (Yes, we do have a wedding photo in our bathroom.)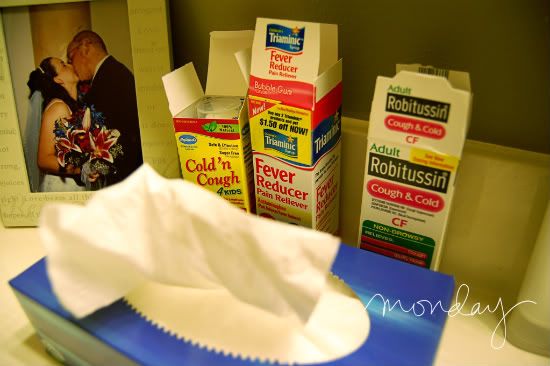 Tuesday, March 1st - Today I got a brief glimpse of my old Micah. For a few fleeting moments, he stopped snotting and screaming and actually flashed me a couple smiles from behind that nuk. Dare I hope that we might be turning the corner?
Wednesday, March 2nd - Strawberries were on sale, so I bought a few and threw together a fun little fruity salad for lunch today. Paired with a Diet Raspberry Snapple, it made me a happy girl. Too bad I wanted a Snickers as soon as I was done.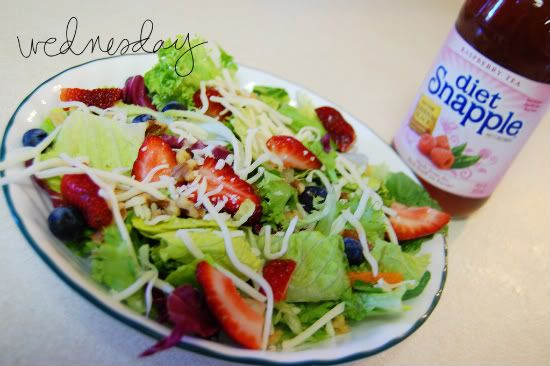 Thursday, March 3rd - I don't know what it is about that little belly peeking out that just gets me, but I think it's so cute.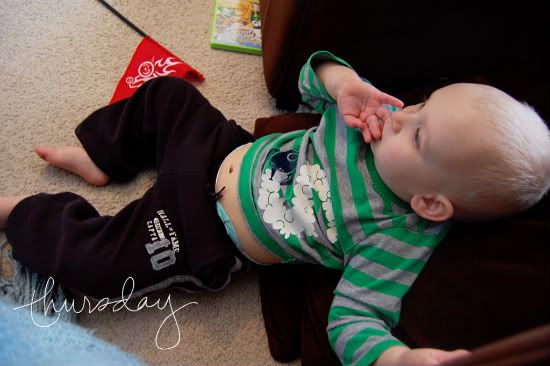 Friday, March 4th - A true sign that my Micah is starting to feel like his old self - he is sitting off by himself, watching a movie. He is my independent little guy and would much rather sit in his own space than to cuddle, so I can tell by this photo that he was feeling
much
better today.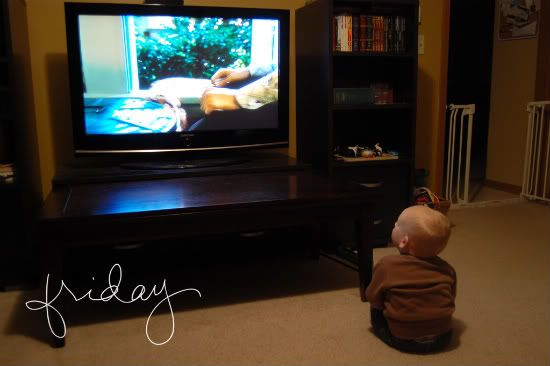 Saturday, March 5th - I know it looks like Evan is torturing Isaiah, but he actually was giggling his little head off while Evan was trying to wipe his face off after supper.
I am so happy that we are finally feeling better in this house! Thank God!
Have a wonderful week!