This morning as I was tinkering around in the bedroom in my PJs, the first thing I heard out of the mouth of one of my babes was, "Mommmmyyy!!! There's poop on the floor!!"
Just another morning around here.
My older boys like to chase each other around the house wearing Spiderman masks and Green Bay Packers jerseys. They switch back and forth between fighting each other and joining forces against some unseen agent of evil. I just praying my furniture and television come forth from the fray unscathed.
I've had headaches three days in a row now. I used to really battle headaches and I would find myself afflicted by one nearly every day. Every once in a while, it would cross the line into Migraine Land and then I would really be miserable. Really, it's been a long time since I've been struck with a bad headache, let alone for three days in a row. For me, headaches are almost always stress related.
When we were on our honeymoon in Jamaica, I went an entire week without a headache. As soon as our plan landed in Chicago and I stepped out into the July sun, the pain behind my eyeballs exploded. Go figure.
Recently, there has been a lot of my mind and even more weighing on my heart. Hence, the headaches. And the chocolate chip cookies.
Do I at least get an A for effort because I made them with Splenda instead of sugar? That cuts down on the guilt, right? Just telling it like it is, kids.
Speaking of food, Mr. Micah John had to sit at the table until 7:15 the other night because he was refusing to eat his dinner. This was the scene as I was heading out the door to the gym:
I'm gonna just come right out and admit that I was pretty glad I was on my way out so I didn't have to deal with that mule of a child and his dinnertime dynamics. For as big as he is, you would be shocked at how much of a battle it is to get him to eat sometimes.
Instead, I ran 3.3 miles on a treadmill, did a little weight lifting, and popped in for the second half of the Zumba class. The abs buried underneath my baby fat are still sore today, no joke!
My sister in law is coming over this afternoon and the two of us are heading into the big city for a night on the town. We're seeing a country cover band that she says is a lot of fun, so I'm definitely looking forward to it! No clue what to wear though. I don't want to dress like I'm trying to be "country," but I don't want to look like a dope either. Most likely I will end up with my skinny jeans, tall brown boots, and then I will agonize of the top/jacket combination until I have changed at least three times, asked my husband for his input and then gotten angry when his comments offer no help whatsoever, only to strip down to my skivvies and start completely over and ruin my hair in the process.
I think I need therapy.
God bless you on this Friday and I hope you have a wonderful weekend. I'd love to stay and chat more, but it looks like "doody" calls.
Oh, I just gotta let you know how excited I am about something real quick-like! I just got to schedule my second
Stitch Fix
thanks to referral credits from you wonderful people! Two things on this topic:
1. THANKYOUTHANKYOUTHANKYOUTHANKYOU!!!!
2. I cannot begin to express how excited I am to get this second Fix. I specifically requested some fun, colorful items for spring and I'm just giddy to open that box and play dress up again!
If you're confused about what I'm talking about,
head over to read about my experiences with Stitch Fix
, an online personal styling service for
lazy
busy women. You'll love it!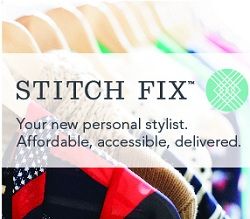 Talk to you on Monday, friends! I'd better go see about that diaper.
(P.S. Stitch Fix did not compensate me in any way for my post here. I am just super stoked about this service and I like to share the love. I have used my referral link here so I do get referral credit if you click on it and schedule a Fix of your own. More cute clothes for both of us!)