SPOILER ALERT: This was my very best Fix ever and I kept every single thing. As in, I sent nothing back. As in, my personal stylist (Jennifer) hit the ball clear out of the park and I couldn't bring myself to part with any of the fabulous items she chose specifically for me. As in, I was pretty flipping excited to write this review of my best
Stitch Fix
experience to date!
(P.S. If you're reading this and wondering what the heck this whole
Stitch Fix
thing is that I'm talking about, I invite you to check out
my previous reviews
for the more detailed run-down.)
Super Quick Recap of
Stitch Fix
:
Sign up and get on the Waiting List (this usually moves pretty quickly)
Fill out your detailed Style Profile
Schedule your first "Fix" and work yourself up into a frenzy as your stylist chooses some great clothes for you to try on
Pay your $20 styling fee and wait for the goodies to arrive on your doorstep
Receive a box full of items hand-picked by a personal stylist, just for you, based on your profile
Try everything on, keep what you want, send back what you don't. (The $20 styling fee comes off the price of anything you choose to keep and if you buy all 5 items, you get a 25% discount!)
First Impressions:
There may have been some oooohing and ahhhing when I opened the box. I mean, the fabrics and colors were just spot on target. I couldn't wait to try this stuff on!!
First up was this ultra-feminine cinched waist top. The pattern is just LOVELY and the style card had me wanting to run out to immediately find a pair of emerald green flats.
I was a little iffy about this one when I put it on, but it grew on me the more I wore it. Plus, my hubby really liked it and that is always a nice little bonus! It is unlike anything else I have in my closet, which is one of my favorite things about
Stitch Fix
. I end up with some great pieces that I would never have chosen for myself!
Oh, this blouse. The flowy fabric, the subtle print, the tab sleeve. It made my heart go pitter pat.
Love at first sight. I left for work after trying this one on for the first time and I am not even joking when I say I couldn't stop thinking about this blouse all night. I was seriously daydreaming. About a shirt. I had to have it. (You'll also notice I'm wearing Item #3 in the photo above.)
The cute pup didn't come in my
Stitch Fix
box, but this darling mint bracelet was a welcome surprise! I had specifically asked for a bracelet this time since I've had a run of necklaces lately and this one did not disappoint. I want to wear it with everything.
My stylist wanted to send me a different dress that I had been requesting for a while now, but it was still out of stock in my size. She sent me this one instead, telling me she thought the faux wrap would create the small waist I was aiming for.
Nailed it. I love this dress. I need to find a pair of great nude heels to go with it and I think I have found my outfit for my cousin's wedding in October!
Last, but certainly not least, was this delightful zig zag maxi skirt that has just enough extra fabric at the bottom to make it dance a bit while you walk.
At first I thought there was no way I would want to keep a maxi skirt when I already have two, but this skirt was just too fun to send back. The pattern, the soft and comfy fabric, the length. I love everything about it!
When all was said and done, the only item I really was on the fence about was the cinched waist top (Item #1), but one of the perks of
Stitch Fix
is that when you keep all five items, you get a 25% discount across the board! The math worked out so that it was actually cheaper for me to keep everything than to send that one item back! In fact, it only ended up being $16 more for me to keep all five items than to keep my top THREE! Sold, my friend. The whole box was mine and I essentially got that first top for free.
**STITCH FIX TIP**
Create a Pinterest board with clothes you like, especially items you have seen other people get in their Fixes and refer your stylist to your board. My stylist loves to send me stuff she finds on my Pinterest board - like the gray Daniel Rainn top from this Fix!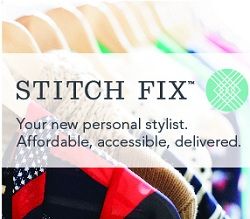 Ready to give
Stitch Fix
a try? I have really enjoyed using this styling service as a way to mix things up in the wardrobe department. It's so fun to see what my stylist has chosen! My favorite part is that it is NOT a subscription service where you are charged every month. You can get one Fix and be done or not get another one for several months if you choose. Or....you can choose to get a box of goodies every month. It's your call!
CLICK HERE
to get started!
Disclosure: I was not paid by Stitch Fix to write this or any of my other reviews and all opinions are my own. I do use a referral link so I do get a credit to my Stitch Fix account when new folks get their Fix on! Thank you for supporting this blog (and my clothing habit)!
Linking up once again over at
The Pleated Poppy
for some amazing fashion inspiration!