With every new
Stitch Fix
box that lands on my doorstep, I have more and more fun sorting through the unexpected items my stylist sends me. Sure, I requested a fall coat in my last fix (and the one they sent didn't work out), but I honestly didn't expect another one to come this time. And burgundy skinny jeans? For me, this was a very adventurous box!
(P.S. If you're reading this and wondering what the heck this whole
Stitch Fix
thing is that I'm talking about, I invite you to check out
my previous reviews
for the more detailed run-down.)
Super Quick Recap of
Stitch Fix
:
Sign up and get on the Waiting List (this usually moves pretty quickly)
Fill out your detailed Style Profile
Schedule your first "Fix" and work yourself up into a frenzy as your stylist chooses some great clothes for you to try on
Pay your $20 styling fee and wait for the goodies to arrive on your doorstep
Receive a box full of items hand-picked by a personal stylist, just for you, based on your profile
Try everything on, keep what you want, send back what you don't. (The $20 styling fee comes off the price of anything you choose to keep and if you buy all 5 items, you get a 25% discount!)
First Impressions:
Ummmm...where is all the COLOR? I love it when I open a box and discover a variety of saturated hues - blues, greens, etc. This one was very monochromatic so I was a little worried at first. I also had a new stylist trying her hand at selecting items for me, so that always makes for an exciting experience. Lizzy wrote a very detailed note of introduction about why she chose each item for me, including referencing my Pinterest board and my feedback on
previous Fixes
.
I wish you could touch this sweater. It is so soft and flowy. Just looking at it, I knew it would be super-comfy! My concern was that it would make me look frumpy.
I took my cue from the styling card and I wore it with a v-neck white t-shirt and jeans. I tried putting a scarf with it, but it seemed like too much fabric around the neck for me. I tossed on my favorite colorful earrings and a pair of black flats (I'm still too shy to try this whole ankle boot trend).
Basically, I never wanted to take this sweater off.
After sending back a really cute yellow color-block sweater in
my very first Fix
, I've been hoping to have another shot at one. I've regretted not keeping that sweater so many times! I hate it when I get a bad case of Fix Regret.
While this top didn't quite fill the hole in my closet that the elusive yellow sweater left behind, it did a pretty decent job. It was a lighter knit than I was expecting and it did cling to my trouble zone a bit more than I would usually be comfortable with. BUT. I loved the red on top and I thought the button detail was darling. I could definitely see myself wearing this top a lot, as long as I remembered to squeeze into my SPANX first.
See my little helper there holding the belt up? What a cupcake. Can I just say how stoked I get when one of my items comes with an included belt? Free accessory, people!! Nice. The feminine details on this tunic top jumped out at me right away and I was excited to try it on.
Couple of things. First, I wish I would have worn this with my leopard print flats. Whew, I feel better already now that I have that off my chest. Second, my leg is not broken, despite the freakish and unnatural angle I am holding it at in this photo. I really don't know what on earth I'm doing. Third, I dig this top. The length is great and covers my bum and it's loose enough that I don't have to worry about sucking it in all the time.
I asked for a fall jacket in my last Fix and the one my stylist picked for me was sent back because it was too small and just not quite right for my style. This one was spot on. I loved the color, the casual feel, but the best part was how the drawstring created a cinched waist.
I tried it on and loved it. I immediately wanted to hang it in the closet, but the $100 price tag had me a little gun shy. I put this one in the "maybe" pile because I needed to see what the fifth item in the box held in store for me. There was that
25% discount
I needed to think about.....
Burgundy. Skinny. Pants.
Really? I have started letting my stylists know that it is ok to send me something a little wild and outside the box to surprise me a little bit. This certainly qualifies because I was scratching my head a bit trying to think about how on earth I was going to wear these. But then I touched them. Oh mylanta, were these pants
soft
.
They were several inches too long, so I had no choice but to wear them with my brown boots. If I kept them, there would be a serious hem job sometime in my future, so that was definitely a concern. I struggled a bit to find something cute to go with these pants and for once the style card didn't help me very much because my closet didn't really reflect well the suggestions pictured. I ended up going with this green striped sweater simply because I got fed up and said, "To heck with it! This will be fine!!" And let me tell you, these pants are crazy comfortable. I never thought I would say that a pair of skinnies could actually be comfy, but these are really amazing. The fabric is super soft and they fit great.
Doggonit.
I went back over all the options in my box and I really felt stuck this time. See, after I sent back a few items in
my last Fix
, I suffered from a serious case of Fix Regret. Looking back, I wish I would have kept the blue blouse. *Sigh* Anyway, I didn't want that to happen this time. I was determined to think it over carefully and not wind up parting with something I would later lament over losing.
Before I reveal what I decided to keep, let me remind you of one of the fabulous features of
Stitch Fix
. If you keep all FIVE items in your box, you get a 25% discount right off the top of
everything
.
**STITCH FIX TIP!!**
Don't forget about the 25% discount! Sometimes the math works out so that keeping four out of the five items in your box will actually cost you MORE than if you kept all five. Consider your options carefully and really do the math if you are on the fence about one or two items. That discount makes a big difference!
THE KEEPERS
I was determined to have no regrets this time around and the math was favorable. (Yes, I can do math when it applies to how many clothes I can keep.)
So.....I kept everything
. Anyone know a good seamstress who can hem my new pants?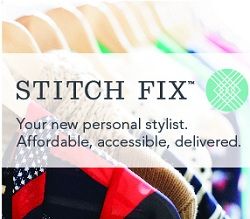 Ready to give
Stitch Fix
a try? I have really enjoyed using this styling service as a way to mix things up in the wardrobe department. It's so fun to see what my stylist has chosen! My favorite part is that it is NOT a subscription service where you are charged every month. You can get one Fix and be done or not get another one for several months if you choose. Or....you can choose to get a box of goodies every month. It's your call!
CLICK HERE
to get started for free!
Disclosure: I was not paid by Stitch Fix to write this or any of my other reviews and all opinions are my own. I do use a referral link so I get a credit to my Stitch Fix account when new folks get their Fix on! Thank you for supporting this blog (and for helping keep my clothing budget under control)!
Linking up once again over at
The Pleated Poppy
for some amazing fashion inspiration!