By this time, you know very well how I get when a new
Stitch Fix
box lands at my door. There is squealing. And clapping. And for that brief moment, I turn into one of those "
Woo Girls
" that I usually roll my eyes at.
I just can't help it. The little surge of dopamine or whatever hormone that hits my brain when I see that beautiful teal logo just makes me feel all the happy feelings and I'm skipping off to rip the box open in a nano-second.
(P.S. If you're reading this and wondering what the heck this whole
Stitch Fix
thing is that I'm talking about, I invite you to check out
my previous reviews
for the more detailed run-down.)
Super Quick Recap of
Stitch Fix
:
Sign up and get on the Waiting List (this usually moves pretty quickly)
Fill out your detailed Style Profile
Schedule your first "Fix" and work yourself up into a frenzy as your stylist chooses some great clothes for you to try on
Pay your $20 styling fee and wait for the goodies to arrive on your doorstep
Receive a box full of items hand-picked by a personal stylist, just for you, based on your profile
Try everything on, keep what you want, send back what you don't. (The $20 styling fee comes off the price of anything you choose to keep and if you buy all 5 items, you get a 25% discount!)
First Impressions:
Oh. My. Gosh. It's
THE SWEATER
. At the very top of my stack of goodies was the long lost colorblock sweater that I received in
my very first Fix
. The one that I sent back and regretted it ever since. The one that I wrote about when I
lamented my Fix Regret
. And this time.....it was PINK.
We were off to a very good start, folks. Since I already knew I was going to love that sweater, I decided to start trying on the other pieces first.
Up first was this open draped cardigan. When I saw this in the box, I thought two things:
1. Am I having
Deja Vu
?
2. I really want that teal dress pictured on the styling card.
Sure enough, this cardigan was the EXACT one I had received in my last Fix, just in a different color. See
HERE
to check out the one I kept last time. Did I like it? You betcha. But I really didn't need another one just like the piece I already kept, so I was a little disappointed that my stylist had sent me a repeat. To be fair, I got the impression that I had somebody new style this box for me because there wasn't the usual personal note that I'm used to getting and it also wasn't signed. Very strange.
Wop wop wop......
When I pulled this tribal print sweater out of the box, I laughed out loud. Seriously? Was my stylist trying to play some sort of joke on me? It was one of the ugliest sweaters I had ever seen in my life!! And the shape? Ugh, I just knew it would look horrid on me, but I did put it on long enough to take this one photo. That's how much I love you guys.
I know. You can never un-see that, right? My apologies. After such a promising beginning, things were going downhill quickly up in here.
Ok, this looked pretty good! Digging the stripes and the heart print was really cute.
Once I tried this sweater on, I realized it was too tight and too short. That band of lace you see poking out from the bottom? That's one of my trusty long tank tops that I put on under it because I felt like my muffin top would be popping out if I sneezed too hard. And the hearts were cute.....TOO cute. I'm 30 years old and I just felt like this print was a little too young for me.
It was time for a much needed pick-me-up.
Welcome home, darlin'! This was the exact sweater I had so stupidly sent back in my very first Fix, returning once again. I was pleased to see they had sent me a pink one this time because I look way better in that color than I do in the original yellow one I got.
Comfy, cute, and affordable. SOLD.
My final item was a pair of black bootcut jeans. At $98, I thought there would be absolutely no way I would want to keep these.
I tried them on with my
favorite Stitch Fix score
ever and I was pleasantly surprised at how well they fit, how comfortable they were, and how they were the
perfect
length.
Decision time.
Before I reveal what I decided to keep, let me remind you of one of the fabulous features of
Stitch Fix
. If you keep all FIVE items in your box, you get a 25% discount right off the top of
everything
.
**STITCH FIX TIP!!**
Don't expect the prices of your items to look like an Old Navy or Target price tag. I love a good clearance deal as much as the next gal, but that's not what Stitch Fix is about. It's about getting quality pieces into your closet. Be honest and reasonable when you choose your preferred price ranges on your Style Profile so you don't end up with sticker shock when your box arrives.
THE KEEPERS
You already know I kept the sweater, but I couldn't bring myself to part with the black jeans so those stayed too!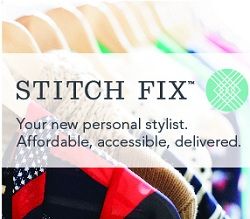 Ready to give
Stitch Fix
a try? I have really enjoyed using this styling service as a way to mix things up in the wardrobe department. It's so fun to see what my stylist has chosen! My favorite part is that it is NOT a subscription service where you are charged every month. You can get one Fix and be done or not get another one for several months if you choose. Or....you can choose to get a box of goodies every month. It's your call!
CLICK HERE
to get started for free!
Disclosure: I was not paid by Stitch Fix to write this or any of my other reviews and all opinions are my own. I do use a referral link so I get a credit to my Stitch Fix account when new folks get their Fix on! Thank you for supporting this blog (and for helping keep my clothing budget under control)!
Linking up once again over at
The Pleated Poppy
for some amazing fashion inspiration!