It's been a while since I wrote a
Stitch Fix
Review, but that doesn't mean they haven't been happening! Right before Evan left on his latest trip to China a box of goodies arrived at my doorstep and I had just enough time to try everything on and get his opinion on them before he hopped on an airplane to the other side of the planet. I did not, however, have time for him to help me take photos of said items until he flew away so instead I give you......
That's right, friends! Lest you believe that those of us who get these fancy
Stitch Fix boxes
are some sort of fancy pants crew, I am armed today with a collection of cringe-worthy selfies snapped in my disheveled bedroom that I didn't even bother to pick up before I started snapping shots.
And this is all ok. Because Stitch Fix isn't for just the fancy pants people. It's for real people with unmade beds and intrusive toddlers. It's for women with hand prints on their mirrors and piles of unfolded clothes. It's for women like me who like to wear
Real Pants
on occasion, but don't necessarily want to drag an entourage of toddlers into dressing rooms to make it happen.
(P.S. If you're reading this and wondering what the heck this whole
Stitch Fix
thing is that I'm talking about, I invite you to check out
my previous reviews
for the more detailed run-down.)
Super Quick Recap of
Stitch Fix
:
Sign up and get on the Waiting List (this usually moves pretty quickly)
Fill out your detailed Style Profile
Schedule your first "Fix" and work yourself up into a frenzy as your stylist chooses some great clothes for you to try on
Pay your $20 styling fee and wait for the goodies to arrive on your doorstep
Receive a box full of items hand-picked by a personal stylist, just for you, based on your profile
Try everything on, keep what you want, send back what you don't. (The $20 styling fee comes off the price of anything you choose to keep and if you buy all 5 items, you get a 25% discount!)
First Impressions:
Beautiful colors! The saturated blue top caught my eye right away and I loved the pattern I saw peeking out from the lighter green item. And pink? Bright pink? You have my attention, Margaret.
I loved everything about this top. It was loose fitting enough to hide my trouble areas, but still body skimming enough to be flattering. I could see it under a blazer for sure, but I liked how it looked on its own too. The color is dreamy and the neckline adds a nice touch of interest.
If Evan hadn't been in China over Valentine's Day, I probably would have worn this dress out to dinner. I think I'll need to put a tank top under it just to make sure the plunging neckline isn't showing off too much of the goods, but a pretty white cami with lace at the top would be lovely under this dress. I loved the detailing on the sleeves and the the length was super cute. Please ignore my white knees. The brutal winter here in Wisconsin has done a real number on my already dry skin. It's getting ugly up in here.
Scarves are my jam. This lightweight patterned infinity scarf instantly took my favorite grey t-shirt and took it up a notch. The teals, oranges, yellows, and blues in this scarf make it so versatile!
I paired the last two items together and I was very pleased with the combination. The white striped tank top definitely needs a cami underneath because it is very, very see-through, but that really isn't a big deal to me. It's slightly longer in the back for a little booty coverage (LOVE) and the lightweight navy cardigan was the perfect compliment. I can see wearing that cardigan with so many other items in my closet!
And do you see how I labelled all the embarrassing items in the photo? Nice. Welcome to my world!
Before I reveal what I decided to keep, let me remind you of one of the fabulous features of
Stitch Fix
. If you keep all FIVE items in your box, you get a 25% discount right off the top of
everything
.
**STITCH FIX TIP!!**
Think about how the items your stylist sends fit into your existing wardrobe and evaluate how likely you are to wear it. Look for versatile pieces that can play along nicely with the clothes you already have and love wearing!
THE KEEPERS
There was nothing in this box that I didn't like and couldn't see myself wearing, so this is another instance where I kept the whole box! That 25% discount is such a great perk!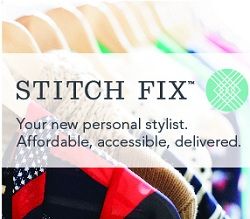 Ready to give
Stitch Fix
a try? I have really enjoyed using this styling service as a way to mix things up in the wardrobe department. It's so fun to see what my stylist has chosen! My favorite part is that it is NOT a subscription service where you are charged every month. You can get one Fix and be done or not get another one for several months if you choose. Or....you can choose to get a box of goodies every month. It's your call!
CLICK HERE
to get started for free!
Disclosure: I was not paid by Stitch Fix to write this or any of my other reviews and all opinions are my own. I do use a referral link so I get a credit to my Stitch Fix account when new folks get their Fix on! Thank you for supporting this blog (and for helping keep my clothing budget under control)!
Linking up once again over at
The Pleated Poppy
for some amazing fashion inspiration!