Let the awkward selfies resume!!
That's right, friends! It's time once again for me to share the goodies that came in my lovely box from
Stitch Fix boxes
and show you the incredibly awkward photos I take in my dirty bedroom mirror. Glamorous, right? But it's
awesome
because I'm still not having to try on these clothes in a cramped dressing room, but in the comfort of my own messy home.
(P.S. If you're reading this and wondering what the heck this whole
Stitch Fix
thing is that I'm talking about, I invite you to check out
my previous reviews
for the more detailed run-down.)
Super Quick Recap of
Stitch Fix
:
Sign up and get on the Waiting List (this usually moves pretty quickly)
Fill out your detailed Style Profile
Schedule your first "Fix" and work yourself up into a frenzy as your stylist chooses some great clothes for you to try on
Pay your $20 styling fee and wait for the goodies to arrive on your doorstep
Receive a box full of items hand-picked by a personal stylist, just for you, based on your profile
Try everything on, keep what you want, send back what you don't. (The $20 styling fee comes off the price of anything you choose to keep and if you buy all 5 items, you get a 25% discount!)
First Impressions:
Shut. Up. A teal crossbody bag???? Oh, Margaret. This is going to be fun. I didn't even know Stitch Fix did bags!!!
At first, this top confused me. It was asymmetrical and had a cowl neck and a hidden magnet. Yup, a hidden magnet. I liked the unique look of it and it was very soft and comfy. It did fit a little snug and the arms were just the teeniest bit too short, but I thought it was a lot of fun, definitely a departure from the typical zip-up hoodie.
Aren't the colors on this top fun? The teal and purple were very pretty and I loved the sleeves and how the little gathering of fabric at the shoulders created a little added interest. It was lightweight and flowy, which is always nice for covering up trouble areas.
This one made me kind of raise one eyebrow from the moment I pulled it out of the box. I wasn't crazy about the strange pattern, but the unique cut-out design of the neckline encouraged me to give it a chance and try it on. Unfortunately, the shape of this top was
terrible
for the shape of my body. It made me look very "hippy" and thick in the middle. Not a good look. This one went directly in the bag to send back.
Cute dress alert! The length of this dress was perfect and I love how the seaming at the waist is body-forgiving. It is light and airy - perfect for the warming temperatures. Now if only I could do something about the pastiness of my legs.....
As you can see, there was definitely a color theme to this box and the bag was no exception. I was very surprised to see a bag in my Fix because I honestly didn't even know that Stitch Fix did that! I'm usually a one purse at a time kind of gal, but I liked the idea of having a smaller cross-body bag in my collection to use for the spring and summer when hauling my enormous Mom Bag isn't quite appropriate. I can already see myself using this a lot on our trip to Savannah when we are kid-free!
Before I reveal what I decided to keep, let me remind you of one of the fabulous features of
Stitch Fix
. If you keep all FIVE items in your box, you get a 25% discount right off the top of
everything
.
**STITCH FIX TIP!!**
Spend some time perusing the reviews from customers on Stitch Fix Reviews. Not only will you get to see the honest opinions from real customers, but you'll get to window shop for new items to request in upcoming Fixes of your own.
THE KEEPERS
After I wore the chevron top around the house for a half hour or so to give it a test drive, I realized that the pattern of it was just a little too busy for me and I didn't think I would wear it enough to justify the $68 price tag. So, it joined the blue & white top and the cowl neck asymmetrical sweatshirt in the bag to send back. I kept the dress and the bag!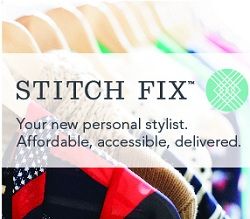 Ready to give
Stitch Fix
a try? I have really enjoyed using this styling service as a way to mix things up in the wardrobe department. It's so fun to see what my stylist has chosen! My favorite part is that it is NOT a subscription service where you are charged every month. You can get one Fix and be done or not get another one for several months if you choose. Or....you can choose to get a box of goodies every month. It's your call!
CLICK HERE
to get started for free!
Disclosure: I was not paid by Stitch Fix to write this or any of my other reviews and all opinions are my own. I do use a referral link so I get a credit to my Stitch Fix account when new folks get their Fix on! Thank you for supporting this blog (and for helping keep my clothing budget under control)!
Linking up once again over at
The Pleated Poppy
for some amazing fashion inspiration!